---
Congratulations Danielle Boxill and "My Illustrated Life!"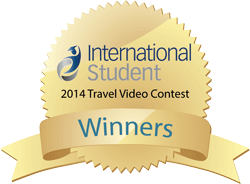 We are pleased to announce that after much deliberation our judges were able to name our 2014 Travel Video Contest winners!
Although only one of our impressive entrants could walk away with the first place title we had a very strong group of runner-ups and finalists this year. The amount of effort and creativity that went into each video has inspired us and viewers around the globe. Although not all could receive a first place award from us, we know that life will bring growth to Lizbeth as she strives to plant roots amongst the trees, the opportunity for Beth and Dio to finally save the sea turtles, Anh the chance to bring the change he wishes to see in Vietnam, success to Grace's Certain Ambitions, David's goal of spreading cultural awareness throughout around the world to be met, all of the answers XingXing has been searching for, the opportunity for Rebecca to study at Oxford University- a school that seems to be just her cup of tea, as much submersion in Korean culture as Eliana hopes to have, the ability for Florence to fulfill her dream of musical happiness, Levi's chance to explore life outside his campus walls, an animation degree to Danielle, Pedro his sought-after knowledge and continued drive to Azzedine.
Congratulations to the winners and each of the finalists!
$4,000 Grand Prize Winner: "My Illustrated Life" by Danielle Boxill
Her love for animation is evident as her hand-drawn stories unfold. Growing up in Trinidad has helped her talent to excel by allowing her to see stories in everyday life - but it has also posed a hurdle when it comes to her education. Danielle is now one step closer to being able to study in the US to obtain an accredited animation degree. Congratulations Danielle!
The poverty within Vietnam left a mark on Anh and inspired him to make a difference. His drive has moved our judges and allowed him to place second! Congrats Anh!
Drew has his heart set on studying in the "Hollywood of the North" to enhance his already impressive visual effect skills. Not sure where "Hollywood of the North" is? Find out and watch his outstanding video. Congrats Drew!
Thank you to all of our finalists. Each year we are impressed with the talent we see around the world, and this year fell nothing short of blowing us away. We truly enjoyed your videos and are honored you took the time to share your story with us.
To keep up to date with all the current events at InternationalStudent.com, sign up for the newsletter today.
2014 Video Contest Winners
Want to see more? Check out all the finalists for 2014 .