---
Congratulations Alberto García Ballesteros and "To Be Continued!"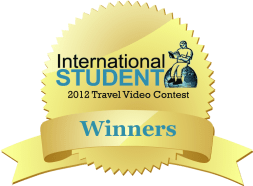 The moment we have all been waiting for has arrived! With much thoughtful consideration our judges have sifted through the 16 Finalists and picked the winners -not an easy task considering the overwhelming creativity, passion and vision reflected in that group.
$4,000 Grand Prize Winner: "To Be Continued" by Alberto García Ballesteros
"To Be Continued" starts out funny and then delves deeper as Alberto, a Spaniard studying in Mexico, shares a project plan of linking kids around the country through creativity and film. We look forward to following the success of his venture through the year. Congratulations Alberto!
$500 Second Place Winner: "Redefining Home" by Cat Tuong Le
Cat stole the heart of many viewers with her video "Redefining Home." She has also captured the vote of our judges and will be walking away with not just the Viewers' Choice Award, but second place as well. We wish her a happy reunion with her father in Vietnam- congratulations Cat!
$250 Third Place Winner: "A Childhood Dream" by Meg Rumsey-Lasersohn
Through "A Childhood Dream" we discovered that Meg has evolved since her days of wanting to become a librarian-archaeologist-ballerina, and has finally found her calling in acting. She has taken third place and is off to London to follow her thespian dream- good luck and congratulations Meg!
"An Interview With the Winner and Loser" had us laughing out loud- literally. SooBin showed us a sneak peek into his reactions if he were to win or lose. SooBin we hope your winning side will shine today- congratulations on fourth place!
Congratulations to the other Finalists and a tremendous thank you to all contestants, judges and voters! This has been an extraordinary experience for us this year, and in the words of one of our esteemed judges, we were "humbled, amazed and made slightly jealous by the entrants."
To keep up to date with all the current events at InternationalStudent.com, sign up for the newsletter today.
2012 Video Contest Winners
Total 4 items.
Alberto, a Spaniard studying in Mexico, has a meaningful project to pursue so isn't ready to go home. His film, part homage to old westerns and part montage of images of sadness, makes us laugh.
Cat has been away from home and her terminally ill father for the past two years while fulfilling her vision to study in America. She is now revealing her new dream and why she has had a change of heart.
Meg shares her childhood aspirations - librarian, archaeologist, ballerina - and shows us why she abandoned each of them. Except one - this aspiring thespian shows her craft while she tells her story.
We see the two sides of SooBin Kim, the one who handles success graciously (sort of), and the one that handles defeat with dignity (not at all)! And we hope he gets a girlfriend . . .
Want to see more? Check out all the finalists for 2012 .