---
Congratulations Cat Tuong Le and all Finalists!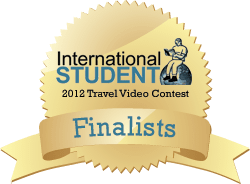 With over 100 entries from 44 different countries, we had the largest, most diverse and highest-quality pool of videos ever, by far. The competition to get to the Finalist round was fierce, and with only 16 Finalists less than one in six could make it through. If we had our way, we would do something for everyone who entered. We would send Amber to Daytona Beach, watch Alejandra dance in the moonlight, help Anais-Marie to spread her wings, pack Eli and Savanna off to Japan, and follow Nancy to the end of the world. We would make a huge contribution to D.K.A.F. and help to connect Elena to her past. We would see how Lorna's text tale ends, broaden Aliev's horizons, and play matchmaker for Alberto and Salamanca. We won't forget William's pictures of Hurricane Sandy, Angela's superheroes or Svetlana's traveling lifestyle. We enjoyed each video and appreciate the effort and creativity behind it.
Out of this incredible group, the Finalists emerged. You can watch all of them below. Make sure to check out Redefining Home, the winner of the Viewers' Choice Award. Cat Tuong Le garnered almost 20,000 votes in just a few days with her emotional but composed desire to return to Vietnam to see her Dad.
The 2012 Finalists are:
Congratulations to the 2012 winning entries!
To keep up to date with all the current events at InternationalStudent.com, sign up for the newsletter today.
Can't find the video you're looking for? Check the full list of 2012 videos.
All efforts are made to ensure that votes are authentic. Any videos with fraudulent votes will be automatically disqualified from the contest.